Wyatt Earp's Life In Lamar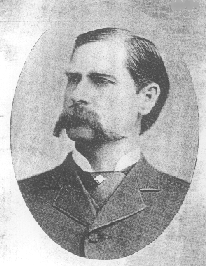 Wyatt Earp
---
Wyatt Earp was born in Monmouth, Illinois on March 19, 1848. He was the third son of Nicholas Earp and Victoria Ann Cooksey. Sometime after he was born his family moved to Pella, Iowa. They stayed in Iowa for awhile before returning to Illinois. By 1858, the family again moved back to Pella. In 1864, the family moved to California. From his birth in 1848 to 1869 very little is really known about Wyatt Earp. Most of the information that we now have is based on Stuart Lake's Wyatt Earp Frontier Marshal (1931). However, Lake's book contains many unsupported claims about Wyatt's life which were probably exaggerated. It is not until 1869 that factual information about Wyatt's early life has been found.
Wyatt Earp's First Known Law Position (1869)
Wyatt Earp and his family moved to Lamar, Missouri around 1869. Nicholas Earp at some point became the Constable for Lamar. However, on November 17, 1869, Nicholas offered his resignation as Lamar's Constable. His resignation was accepted and he was immediately appointed to the position of Justice of the Peace. On the same day Wyatt Earp, who was only twenty-one years-old, was appointed as Lamar's new town Constable. This appears to have been his first known law position. The following is the oath that Wyatt Earp swore to when he accepted the position of Lamar's Constable:
"I, Wyatt S. Earp do solemnly swear that I will to the best of my ability, diligently and faithfully without partiality or prejudice discharge the duties of Constable, within and for Lamar Township Barton County Missouri. [signed] Wyatt S. Earp"
Wyatt Earp gave a $1,000 bond for this position which was filed on November 26, 1869. He signed the note and his sureties were his father Nicholas Earp, his uncle J.D. Earp, and James Maupin. Wyatt remained the town Constable when the town incorporated on March 3, 1870. Very little information is known about his activites as Lamar's Constable. Court records indicate that he did the usual activites that a constable for a small town generally performed.
Wyatt Earp's First Marriage (1870)
On January 10, 1870, Wyatt Earp married Urilla Southerland. She was the daughter of William and Permelia Southerland. Wyatt's new in-laws were very respected in Lamar and they owned the Lamar Hotel. It is believed that following his marriage to Urilla that the couple lived at the Lamar Hotel for a short period. Wyatt Earp purchased a lot with a home on it for $50 in August 1870. Wyatt and Urilla probably moved the home at that time. Urilla died sometime in 1870. Claims have been made that she died during child birth. While other accounts suggest that she died of Typhus. The exact date she died is not known. However, it was probably shortly before November 1870, as Wyatt sold for $75 the he had purchased in August during this month.
LAMAR LAWSUITS AGAINST WYATT EARP
Throughout Wyatt Earp's life controversy followed his every movement. The first known controversial events about Wyatt's life occurred in Lamar.
BARTON COUNTY SUES WYATT EARP AND HIS SUREITIES OVER ALLEGED MISSING SCHOOL FUND MONEY. (1871)
On March 14, 1871, Barton County filed a suit against Wyatt Earp and his sureties for $200. The lawsuit was based on the allegation that Wyatt Earp, while Constable for Lamar, had collected fees for licenses for the town. The proceeds of these fees were supposed to be used to support the school fund. However, the county alleged that Wyatt had never turned over the money that he had collected.
The action against Wyatt Earp was eventually vacated. This was probably based on the fact that Wyatt and his father had left the State. Constable Charles Morgan, in an affidavit filed with the lawsuit, commented: ". . . he has good reason to believe + does believe that Wyatt S. Earp deft. is not a resident of this state, that Wyatt S. Earp has absconded or absented himself from his usual place of abode in this state so that the ordinary process of law cannot be served against him . . . ."
A SECOND LAWSUIT IS FILED AGAINST WYATT EARP (1871)
On March 31, 1871, a second lawsuit was filed aginst Wyatt Earp by a man named James Cromwell. This suit alleged that Wyatt had falsified court documents that refered to the amount of money that he had collected from Cromwell to satisfy a judgement. Cromwell later had a mowing machine siezed by the Lamar Constable to satisfy the amount the court felt was still outstanding in the judgment. The machine was sold for $38. Cromwell in his suit claimed that the machine had a value of $75, and that Wyatt Earp and his sureities owed him this amount because Earp had falsified the court documents about the amount he had paid to satisfy the judgment against him.
A summons was issued for Wyatt Earp to appear before the court on April 5, 1871. It was returned unserved. Wyatt could not be located in the county. On April 21, 1871 the case went forward. Justice S. J. Bowman found for the defendants and ordered Cromwell to pay the to attending men $3.25 for costs. Cromwell appealed and apparently won at least partially. The court issued an "Execution For Costs." It ordered the Barton County Sheriff to seize the "Goods, Chattels and Real Estate" of Wyatt S. Earp and James Maupin.
It is impossible to now know if the allegations against Wyatt Earp were true or not. However, he chose to leave the state rather that face the allegations against him.
ARRESTED IN THE INDIAN TERRITORY FOR HORSE THEFT (1871)
During April 1871, Wyatt Earp was accused of horse theft in the Indian Territory. The Federal Government started legal action against Earp and his alleged accomplices. A Bill of Information was filed on April 1, 1871:
"April 1, 1871, Bill Of Information. U. S. vs Wyatt S. Earp, Ed Kennedy, John Shown, white men and not Indians or members of any tribe of Indians by birth or marriage or adoption on the 28th day of March A. D. 1871 in the Indian Country in said District did feloniously willfully steal, take away, carry away two horses each of the value of one hundred dollars, the property goods and chattels of one William Keys and prey a writ [signed] J. G. Owens."
On April 6, 1871, Deputy United States Marshal J. G. Owens took Wyatt Earp into custody on a charge of horse theft. Commissioner James Churchill arraigned Earp on April 14, 1871, and bond was set at $500. On May 15, 1871, Wyatt Earp was indicted on the charge. He failed to appear in court in May and a warrant was issued for his arrest. It was returned unserved on November 21, 1871.
Wyatt was never tried on the matter. His alleged co-defenfent Edward Kennedy was later acquitted of the charge. Anna Shown, wife of John Shown, in a sworn statement accused Wyatt Earp and Ed Kennedy of forcing her husband to help steal the animals. she also claimed that Earp and Kennedy had threatened to kill her husband if he turned State's evidence against them.
Whether Wyatt Earp had really stolen the horses was never determined. Also, it is not known if Anna Shown's claims against Earp were true. However, this incident and the other lawsuits aginst Earp in Lamar, now place a cloud of controversy over the actions he made during his early life. Controversy would continue to follow him throughout his life on the frontier.
---
---
---
---